Lake Region's First Pride Week!
The Lake Region GSA (Gay Straight Alliance) which is a newly formed club lead by Ms. Hansen. Celebrating Pride month with a Lake Region's first Pride week the group encountered challenges and continued on to simply celebrate pride.
Prior to Pride week posters were torn down immediately after they were put up, some students went as far to put up "Straight Pride" posters. These actions damaged some of the GSA's excitement going into pride week but many were not surprised. Behaviors against the efforts of the GSA were addressed by the administration. The GSA continued to hang posters to make sure others knew what was going on, even hanging black and white posters to be more subtle. In the beginning of the week there was an intercom message read by Principal Andre Messier that was written by the GSA explaining that it was optional to participate and intolerance would not be ok and behaviors would be addressed by the administration.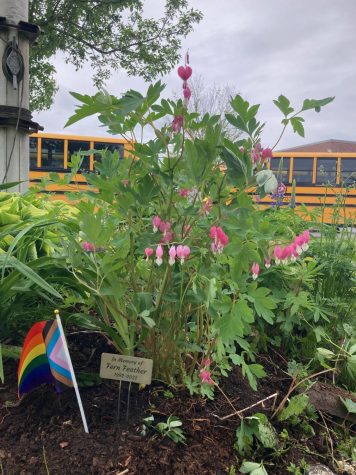 On Wednesday June 1st many teachers and students gathered around the flag pole planting a bleeding heart in memory of Fern Feather a trans-woman who was murdered and attended Lake Region. People gathered and grieved for most of the block; some knew Fern and shared brief stories, three different poems were also read. These poems can be read above.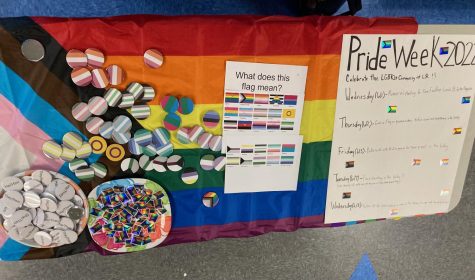 On Thursday pronoun pins, and pins with various flags representing sexualities, and gender identities. The GSA made the pins with a pin maker and the table seemed to be successful as many of the pins by the end of both Lunches were gone.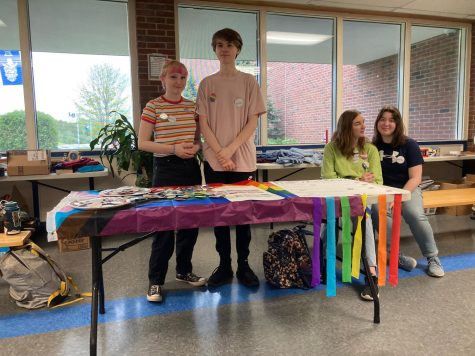 Friday there were plans to have a bake sale when school was cancelled due to a gun violence threat (not related to Pride week) the GSA continued the scheduled events for the following week. 
On Monday a video about why celebrating Pride month is important was shown on LRTV in advisories.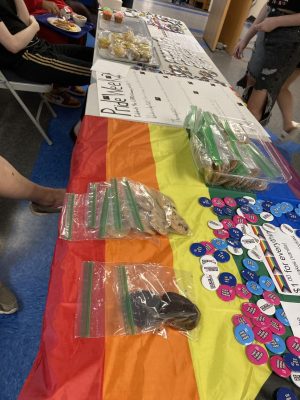 On Tuesday the bake sale was very successful raising $405 for the Trevor Project mostly from the bake sale and some from donations made by staff members. The Trevor Project an American nonprofit that is focused on suicide prevention among LGBTQ+ youth through a free lifeline (text, chat, and call) with trained counselors. Many of the baked goods were almost sold out by the end of the day: brownies, chocolate chip cookies, M&M cookies, cupcakes, banana bread, lemon poppy seed muffins with a lot of free pronoun and flag pins were displayed on the table. 
On Wednesday the GSA and other students and staff members assembled to take a pride photo. Some wore colors to attempt to arrange in the colors of the rainbow and others had rainbow clothing. The pride week overall was a success and a celebration. 
Along with these celebrations throughout the week teachers had the option to display pride flags in their classroom in support this arrangement was made to avoid any backlash that was expected to come with displaying Pride flags. The GSA adviser Ms. Hansen said "Pride week was an opportunity for our LGBTQ+ community to be themselves and be proud of their identities. It was so great to see this empowerment in the students and for them to see how many allies they have here at the school"