Lake Region Mascot Debate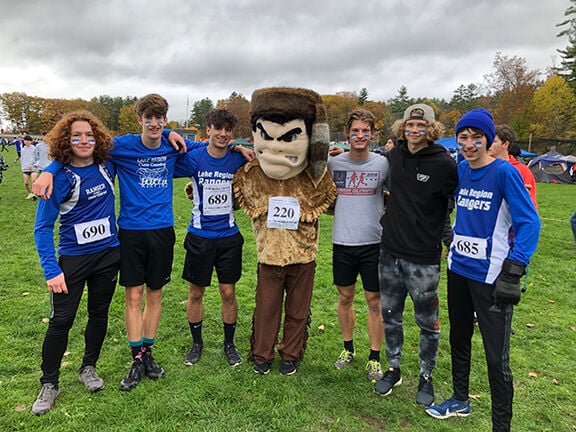 On April 21st, 2021 a bill that is "An act relating to nondiscriminatory school branding ("legislature.vermont.gov")"  was proposed and passed by the Vermont House of Representatives. This act made it required for schools to create a policy about their mascot by January 1st, 2022, and to review their mascot in depth to see if it is offensive to race, ethnicity, and customs. 
At Lake Region Union High School (LRUHS), we have a mascot called "Rowdy Ranger." It is a Ranger in a coonskin hat who is a white male. If you don't know about Rangers, some Rangers were harmless, and some of them (mostly the Rogers' Rangers) were known to kill native people around New England. Rogers' Rangers were created in 1756 by Great Britain and disbanded in 1760 (Wikipedia).  Although LRUHS is not in the Rogers' Ranger region, Rogers' Rangers used to span from the White Mountains to Lake Champlain. So, let us dig deeper into this mascot. 
Mr. Messier, the LRUHS principal, has been looking into this. In November, he got a first opinion from Lucy Neel, who served on the Vermont Commission on Native American Affairs. She said that the mascot would not be offensive to the native people. In December of 2022, he reached out to the Nulhegan Band of the Coosik tribal leader and educator, Don Stevens, who evaluated the coat of arms of LR and the Rowdy Ranger mascot. His conclusion was the same as Lucy's. It should also be brought up that no tribe in Vermont is federally recognised, and the members of the Odanak First Nation, an Abenaki reserve in Quebec, is challenging whether or not Vermont's tribal leaders are really native.  
Let's talk about the coat of arms. On top, we have a Ranger with a coonskin hat, while inside we have mountains and a lake, a book with a torch, and oxen pulling a plow. Behind the coat of arms, there is an arrow, a musket, a tomahawk, and feathers. The tomahawk and feathers have been known to be used by indigenous people and are symbols of them. As these have been used to represent indigenous people, they have also been used offensively.  This means that there was some recognition of the native people, whether it was good or bad.  
So this case is almost solved, as the native people around LRUHS approve and the mascot designer (who Mr. Messier cannot find) recognized native people through symbolism in the coat of arms. I reached out to our superintendent Penny Chamberlain multiple times with some questions about what the district has done to comply with the new law. She responded that she would follow up with answers, but as of this writing, still has not. I also looked on the OCSU and LRUHS websites under the policy section and there is no policy about any mascots as of the beginning of February. As long as the state approves the policy that Mr. Messier and Ms. Chamberlin are writing with the school board, Lake Region is all set. Nonetheless, this topic of the LR Mascot is something that may be talked about in the future.
One more thing that can be addressed is the set of mascots for Orleans Central Supervisory Union (OCSU) K-8 schools. The K-8 schools of OCSU do not have a policy governing mascots on their website. I also talked to Jessica Thomas, the principal of Albany Community School, and she said that she had no idea that this was a law, and she was not aware of it. This is a problem and should be discussed at an upcoming school board meeting. 
If you are unfamiliar with the OCSU K-8 school board system, there is a single school board governing all K-8 schools within LRUEMSD. They are the Jurisdictions for all seven schools. This act that was passed has made it so that every school must have a policy, so it would not be an OCSU policy, but a Brownington policy, Albany policy, etc, and all other schools. But there may be an exception to be made.