Take 5 Ravioli with Rosemary butter and mushrooms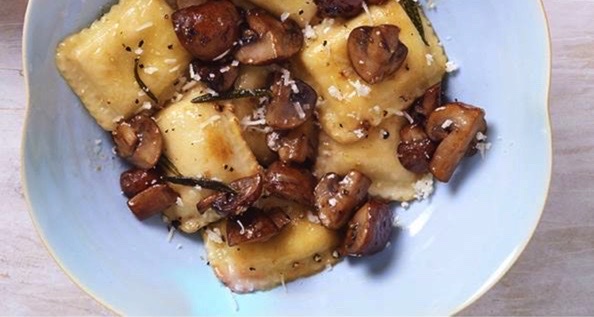 Ingredients:
1 package frozen cheese ravioli (25 oz)

1 package Baby Bella mushrooms (8 oz)

6 tbsp butter

1 teaspoon dried rosemary (can be two sprigs fresh rosemary if preferred)

¼ cup grated Asiago cheese
Directions
Bring a large pot of water to a boil.

Cook the ravioli following package directions. As the ravioli cook cut the Baby Bella mushrooms into quarters.

In a large skillet, heat butter on medium until melted. Add mushrooms, rosemary , and ¼ cup of water. 

Cover the skillet and cook for 10 minutes or until mushrooms are tender, stirring occasionally. Remove from heat.

Toss Ravioli with mushrooms mixture until well coated. Add Asiago and gently stir to combine. 
About the Contributor
McKenna Blay, Writer
McKenna Blay is a Ranger Post writer. She has been a part of this program for three years. McKenna Blay currently runs the Humans of LR and Take 5 columns. ...