Take 5 Spinach and Cheese Pie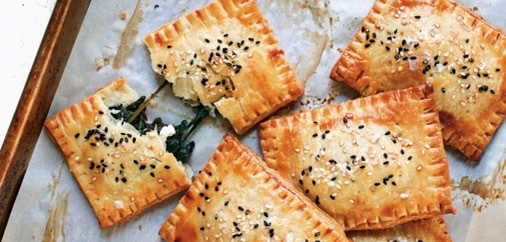 Ingredients:
1 (10 oz) bag of frozen spinach (thawed and drained)

½ (8 0z) package of reduced-fat cream cheese

1 cup shredded sharp cheddar cheese

1 (17 oz) package of frozen puff pastry sheets (thawed)

1 large egg
Directions:
Preheat the oven to 400 degrees Fahrenheit. Line a baking sheet with parchment paper. 

Squeeze as much excess liquid as possible out of spinach using paper towels. 

In a medium bowl stir the cream cheese and shredded cheddar cheese together. Stir in spinach then season with salt and pepper. 

Roll both sheets of pastry into 10×10-inch squares. Cut each sheet into 6 rectangles. Spoon the cheese mixture into the center of 6 rectangles (about 3 tbsp) leaving ½ and inch around the edges. 

Place the remaining six rectangles on top and seal edges with a fork. 

In a small bowl beat the egg. Brush the egg onto the tops of the pies. Poke holes in the tops of the pies and bake for 15-20 minutes or until bottoms are golden brown.
About the Contributor
McKenna Blay, Writer
McKenna Blay is a Ranger Post writer. She has been a part of this program for three years. McKenna Blay currently runs the Humans of LR and Take 5 columns. ...